Partners
Let's join forces, together!
#MakeTheEverydayBetter!
Partners : grow your business!
ITD provides ClickOnSite for telecommunications operators and tower companies. ITD is offering the possibility to become a partner by marketing its OSS solution, according to the part of the world where you operate and your field of expertise. Our attractive conditions offer an opportunity for you to grow your business.
Do you want to become an ITD partner
We protect our brand image by working with companies or commercial agents in the telecommunications sector, and more specifically in OSS and/or the deployment of telecommunications infrastructures. In particular, ITD's partners must have a network and a customer database that include one or more telecommunications operators.
End-to-end support
ITD supports you at every stage of the partnership and guides you on the path to success. Our staff will train your teams in the software and the best selling practices, so that you will hold the keys to success. You can ask for your ITD project manager to accompany you in your first customer visits. You will receive sales support and marketing materials, and we can set up bilateral communications for a successful, long-term relationship.
Finally, you will receive assistance from our technical department.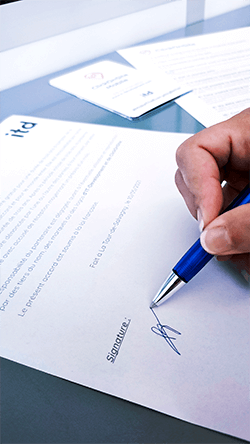 Contact us to find out more
about our partnership programme