Build and manage your radio and transmission sites.
12,000+ telecommunications professionals already use ClickOnSite!

#MakeTheEverydayBetter!
Manage everything
from a single platform.
Streamline administrative formalities.
Easily create tasks, processes, reports, and documents in just a few clicks!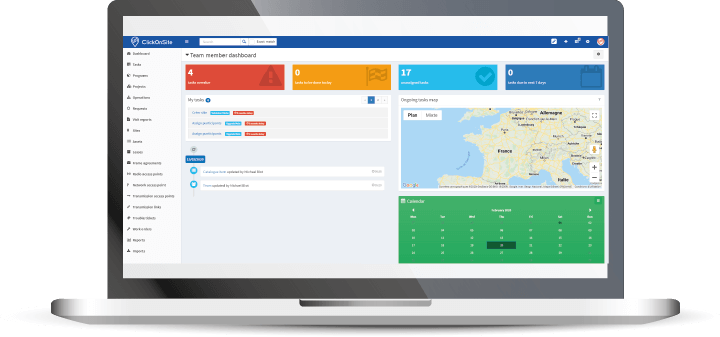 Your teams will complete their projects in record time, by implementing automated processes, with clearly defined responsibilities and tasks. Easily detect and resolve any roadblocks.

Increase visibility
and control
Do you know how many sites you manage and their state of working order? With ClickOnSite, all your up-to-date information is available on a single platform and visible in real time.

Financial loss due to inaccurate or incomplete information, or insufficient control, can be significant, when managing thousands of sites spread over a large expanse of territory. Control your costs with ClickOnSite.
From deployment
to recycling hardware

We have been in this business for more than 20 years, which is why we developed an ultra-sophisticated tool that allows internal and external teams involved in the deployment of your sites to keep track of their operations down to the minute.
A powerful tool to store information about existing sites that helps keep an overview of the overall network.

It enables site managers to control physical assets and better manage the relationships with owners, tenants, and other stakeholders.
A complete, intuitive,
user-friendly, cost-effective project management
tool that helps
telecommunication
providers or equipment
vendors plan,
execute and deliver their
multiple projects.
Specifically designed for supervision and field activities, ClickOnSite eliminates most paperwork and organizes records. This module is a user-friendly interface that integrates trouble ticketing, work orders, preventive maintenance, inventory control, and reporting.
Improve the
overall management
of your assets by
tracking and tracing your
assets on the network.
Maximize your ROI
and visibility.
Give every
person in the maintenance
process complete
transparency of available
stock, allowing accurate
planning of
maintenance tasks.
Generate metrics on all
aspects of the network lifecycle.
The system lets you generate
reports for any specified data range and can report on a single project, all projects, or any specific network aspect.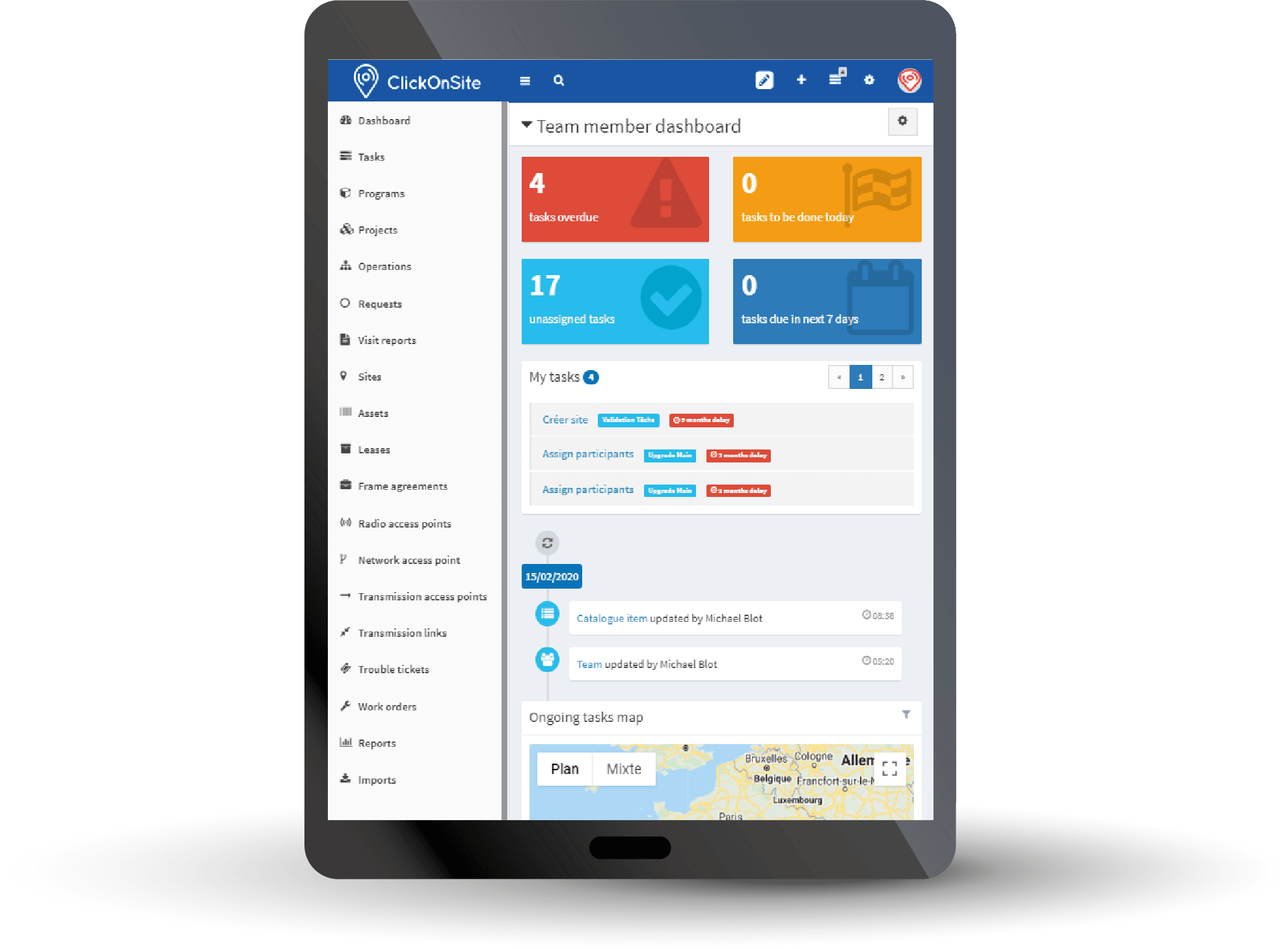 Collaborate
Managers, employees and contractors can all communicate in real time on the same platform. Avoid misunderstandings that can incur serious extra costs.
Find your information easily
Stop wasting time looking for documents filed in different departments using different methods. With ClickOnSite, centralize all your information in a single structured database.
Motivate your teams
Make your employees' lives easier by doing away with time-consuming and tedious tasks that can be completed quickly and effortlessly. Higher staff motivation means increased productivity.
Prepare for the unexpected
Flag problems before it is too late. ClickOnSite helps you to anticipate and defuse numerous operational situations, before they impact your results or your competitive performance.
Do you need more details?
Manage your life cycles,
leaving nothing to chance
All too often, people focus on the immediate future, without considering other phases that are more distant, yet unavoidable. ClickOnSite guides you through the present while anticipating the future, by punctuating your life cycles.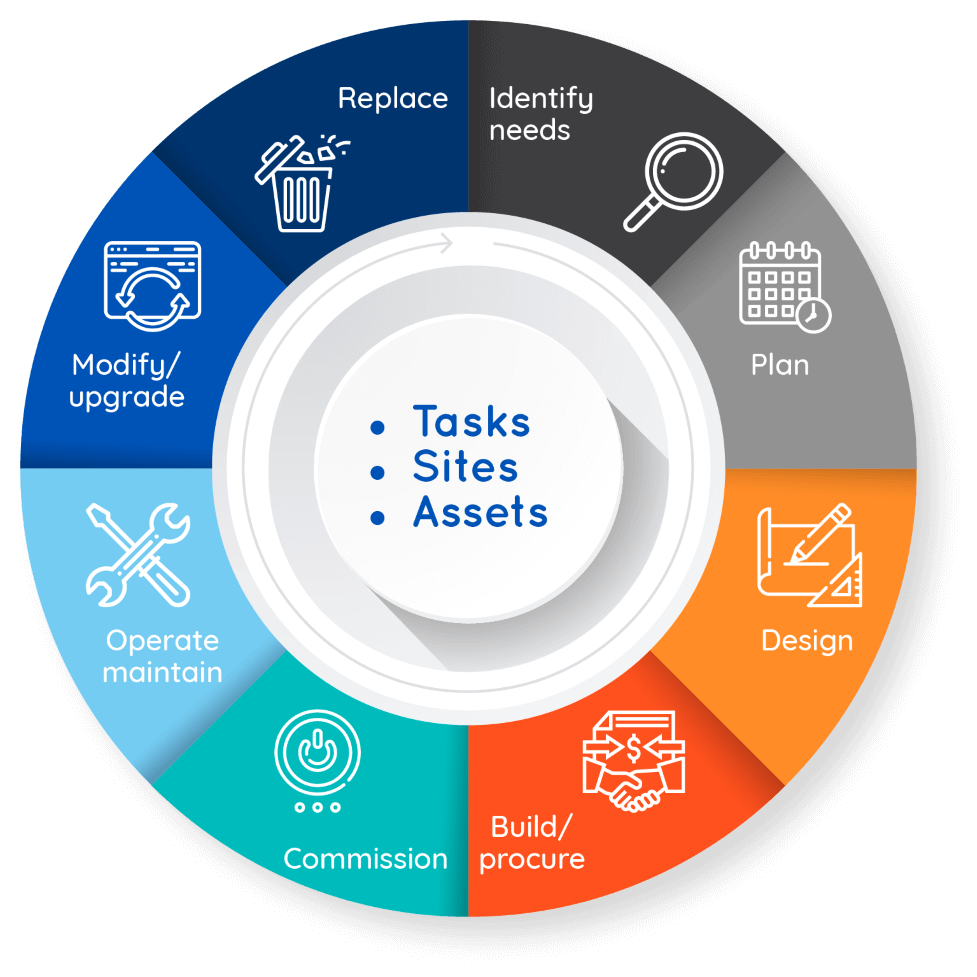 ClickOnSite is a solution that can increase your profitability.
Let's talk about it during a demo!