The design of a great Operation & Maintenance application for telecommunications
requires a thorough and practical understanding of what makes a technical department operate.
Likewise, the Operation & Maintenance module of ClickOnSite is a user-friendly interface that integrates
trouble ticketing, work orders, preventive maintenance, inventory control, and reporting.
Specifically designed for supervision and field activities, ClickOnSite eliminates most paperwork and organizes records.
Takes action (TT or WO) in light of existing site data, reports changes, and keeps data updated
Forgets about change requests being assigned to several employees at once
Easily records the who, what, where, when, and why of each task, asset, and resource
Eliminates overlooked trouble tickets buried in the overloaded mailbox
Makes the problem resolution process transparent to internal customers
Reduces downtime
Easily views asset history reports and maintenance costs on each asset and easily automates planned preventive maintenance tasks by scheduling planned preventive maintenance work orders based on time or meters
Easily generates reports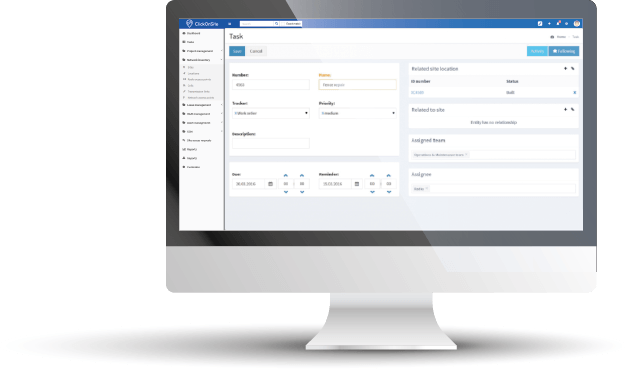 If you are not sure about your need; a yes to one of the following questions shall be seen as the beginning of an answer:
Are you managing piles of work orders without the slightest clue as to which one has been completed?
Are you aware of which assets or equipment have and have not been maintained?
Is it difficult for you to track employees' records?
If you are wondering how to determine if ClickOnSite is the right product for your organization; here are a few key points to help you make that decision.
Have you been looking at other solutions, but just can't find one that fits your needs?
Are your current support contracts and licensing fees way too high?
Are you having trouble supporting or extending an in-house solution?
Do you need something that is more flexible to support your different team needs?
Does your organization have some unique process requirements you need to integrate?
Do you need to combine multiple issue management tools into one application?
Trouble tickets
The TT features have been designed to prioritize, assign, track reports, and audit the issues.
More than just an issue tracker ClickOnSite lets the user create various schemes for workflows, notifications, and screens.
The user can configure different types of events (fault management, customer complaints, optimization) and fields (priority, severity, impacted cells, and so on).
It allows tracking, allocating, and reporting on project tasks with real-time statistics.
Tracks who, where, what, when, why, and how of each trouble ticket
Tracks SLA fulfillment
Allows prioritization and categorization of work for easy planning
Takes into account the customer impact
Allows multiple employees to be assigned to resolve a trouble ticket
Allows attachment of safety instructions or job plans

Work orders
Tracking who, what, where, why, when of maintenance work. Including employee's hours, spares, consumables, and all costs by work orders. Allows prioritizing and categorizing work for easy planning, captures failure mode, prevention action is taken, and customer satisfaction.
Tracks who, where, what, when, why, and how of each maintenance work
Tracks employee's hours and cost on each work
Tracks cost by work
Allows prioritization and categorization of work for easy planning
Captures failure code and prevention taken
Tracks spares and consumables on each work
Tracks customer satisfaction
Tracks work access appointment times
Allows multiple employees to be assigned to a work order
Allows the re-opening of work orders
Allows attachment of safety instructions or job plans

Preventive maintenance
The preventive maintenance sub-module enables preventive tasks to be scheduled for a particular site based on a fixed time interval. ClickOnSite automatically creates work orders when preventive maintenance is due and it documents your activities making it easier to analyze trends and spot recurrent problems.
Inventory control
Simple, fast, and accurate, ClickOnSite tracks all of the information you need for inventory.
Scan serial numbers
Displays work history for each asset
Displays work orders costs for each asset
Tracks movement of assets
The bar code scanner eliminates having to manually count inventory, which takes up much time for your staff. It is an essential tool in the challenging battle to maintain an accurate inventory.

Reporting
ClickOnSite provides detailed reports on equipment, work, and resource productivity.
It produces complete reports sorted by date, time, location, category, people, department, and status.
Suite of reports
Fast screen-based filter and search list reports for investigation
Hyperlink to any document within the network
Integrates MS Excel for easy report writing on a familiar platform
Functionality summary
Operation & Maintenance
Trouble ticketing
Work orders
Preventive maintenance
Inventory control
Reporting