 Collect and access your data wherever you are.
#MakeTheEverydayBetter!
All your
ClickOnSite data
is now within reach!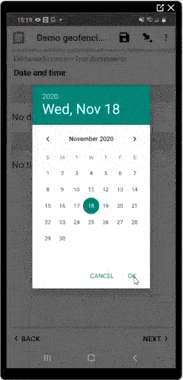 Download it easily
onto your smartphone

The ClickOnSite Mobile application allows users operating on-site to collect data, pictures, and notes.
With a single click, users can directly upload their information to
their dedicated ClickOnSite platform to update and/or create new records.
Even offline, you have full access to all of your forms. You can view, edit or submit them at any time.
Updated versions of the application and blank forms can also be easily installed.
Build powerful forms
Include photos, GPS locations, skip logic, calculations, external datasets, multiple languages, and more.

Collect data offline
Use either the mobile app or the web app. Forms and submissions are synced when a connection is found.

Geofencing
This function allows to determine the user location to trigger different actions (such as automated site code reconciliation)

Geotagging
Add geographical identification metadata to various media such as a geotagged photo
Site hunting
Site acceptance
Asset inventory
Fuel log
Work order report
Mini audit