First highlighted by NASA in 1996 through the Apollo space program, the concept of the digital twin looks like the new hip that replaces the RMS. And thanks to the COVID-19 pandemic with its subsequent acceleration in global digitalization, the digital twin technology has evolved significantly. Although it is seen as one of the major trends of industry 4.0, the digital twin is still at an early stage of maturity. Its global market is expected to reach USD 106.26 billion in 2028 (over USD 10 billion in 2025 in the telecom application).
In this context, we genuinely ask ourselves: why such a craze? Is it really all that useful or just a gadget? And how can it meet the specific needs of the telecom market? Jerome Perret, CEO of ITD, shares his vision and presents ITD's approach to make it easy and accessible to everyone. What is the digital twin in telecom?
In the telecom sector, the digital twin is a virtual site/tower representation that serves as the real-time digital counterpart of a physical object. "The digital twin concept consists of three distinct parts: the physical product, the digital/virtual product, and connections between the two products. (…)
These connections between the physical product and the digital/virtual product are data that flows from the physical product to the digital/virtual product and information that is available from the digital/virtual product to the physical environment." edited by Wikipedia.
How does it work in practice?
First, you need to collect data, then, you need to compute data to deliver the digital representation of your site.
Likewise, tower manufacturers' input and survey data have been the only source of data for decades. However, CAD drawings and data sheets were not always as easy to store as they are now and surveys have been and remain a safety & cost challenge.
Because of this, the industry has been looking for alternatives to traditional data collection for many years now.
In early 2010 for instance, here at ITD, we tested laser scanners with Faro; then we flew drones at our sister company Delcom in Slovakia.
Were you convinced by survey alternatives?
In both cases, these products initially seemed incredible. But the financial and human cost of these technologies is so significant that it might not overcome the default of "traditional" site survey. When you can fly a drone, which is illegal in some of our client countries, you still need to go on-site. With both the laser scanners and the drones, there is still a significant amount of time involved in carrying out the mission and it systematically requires the intervention of dedicated experts.
The global idea of 3D point cloud technologies would not be complete if we forgot to mention the cost of data storage. Do the math scaling your tower portfolio with one drone survey per quarter (assuming that is enough)… you might be shocked!
Besides, were you convinced about the result of drone site surveys?
TowerCos who are currently testing drone data collection with survey-grade sensors understand that they fail to respond to a number of business needs. Topographic-grade drone sensors cannot collect technical grade data, nor can they gather asset information. Therefore, I continue to wonder if drones really offer more service than Google Street View or Google Earth (which, by the way, are both free tools!)
What about new cameras?
Precision could make sense when it comes to capacity loading, but I wonder if extracted data is reliable enough to beat a surveyor, a calculation robot, and the engineer to analyze the result?
In most countries, drawings and calculations must be approved by a highly skilled engineer, and I doubt that he could give his stamp of approval to calculations based on drone data. It's possible that some will but what will happen if calculations fail?
Therefore, milliliter drones might not be more useful than centimeter ones.
I was supposed to have a demo from Bentley Systems but it has not been able to take place yet… I only ask to be convinced otherwise.
Do you believe in digital twins at all?
Yes, of course!
ClickOnSite users already enjoy our freemium version of digital twins in version 2.2.5.
It features the towers in 3D, radio antennas, microwaves, radio units, associated height & azimuths, as well as floor equipment. Besides the inventory, it also gives a very approaching representation of the site in almost real-time when surveys are completed with ClickOnSite Mobile and offer standard industry filtering capacity (i.e., antennas, tenant equipment).
Moreover, before this past summer, we completed a pilot based on a mix of technologies: Android, machine learning (ML), and artificial intelligence (AI). This disruptive innovation is planned to breakthrough in Q1-2022 with the paramount objective to offer an unbeatable TCO.
So, we believe in the Digital Twin but not at any cost!
What can TowerCos expect from the digital twin?
The core business of TowerCos relies on the management of teams, people, and business processes. We've already mastered these skills which have been challenged by thousands of ClickOnSite users.
So, when we imagined our freemium digital twin functionalities, we wanted to bring them even more.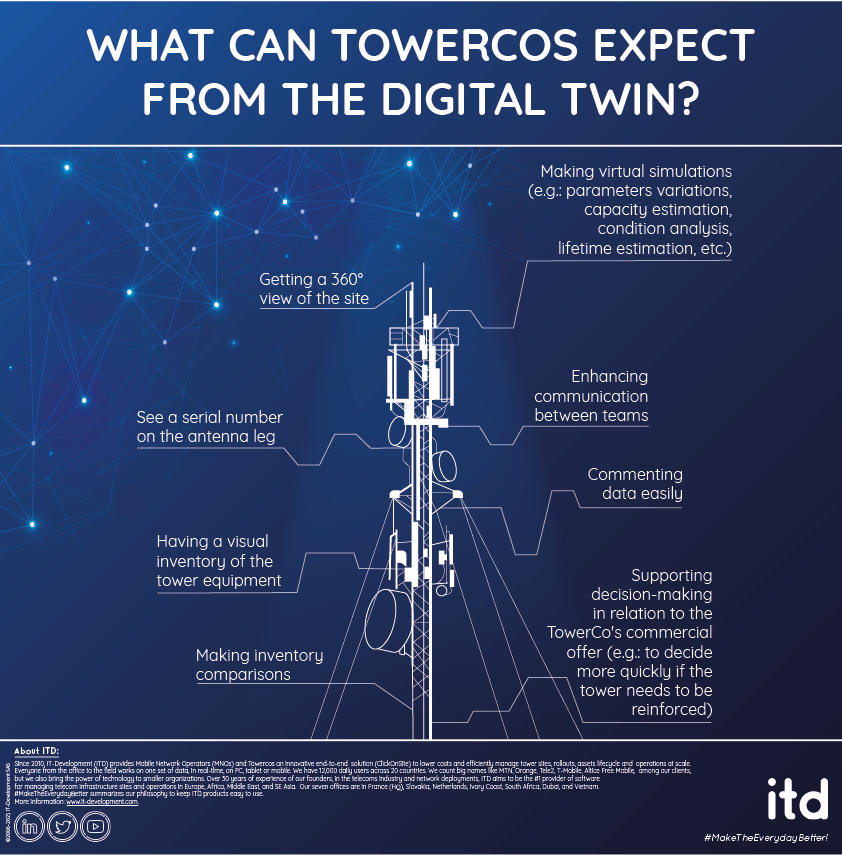 What is your advice to TowerCos owners?
It is urgent to wait. Vendors are not ready yet (some confess that their features are not final), prices are sky-high, and alternatives are already in preparation.
Early adopters can launch RFI, and some vendors' POC but I would not close any deals at this stage.