For the first time, IT-Development (ITD) has been included in the French software publishers ranking published by Ernst & Young, in collaboration with Numeum. This a true recognition for our company which has reached +50% hypergrowth in 2022. For this 2022 edition, the results validate the industry's performance in terms of revenue, hiring, and innovation capacity. However, many challenges remain due to the changing global economic and political landscape.
Ernst&Young, a world-renowned consulting firm
Like ourselves, EY's goal is to build a better world of work. Through its expertise and services, the consulting firm builds and strengthens the bond of trust between financial markets. It promotes transparency, supports capital stability, and encourages inclusive economic growth. In doing so, it values the role that businesses play in society and the regulatory environment in which we operate.
A booming market with sales growth of over 10%
Software publishing in France is accelerating rapidly. Revenues in this market will reach €19.4 billion in 2021, with double-digit growth. This can be explained in particular by the export of French savoir-faire. Like ITD, many publishers remain only slightly impacted by the health crisis or the Russian-Ukrainian conflict. They are therefore continuing their international development. But none of this would be possible without one of the key success factors: innovation, a subject at the heart of French publishers' strategy. As proof, R&D investments represent 19% of their revenues and 33% of their total workforce.
Global publishing revenues
(in billions of euros)
Sample: 292 companies
Source: EY – Numeum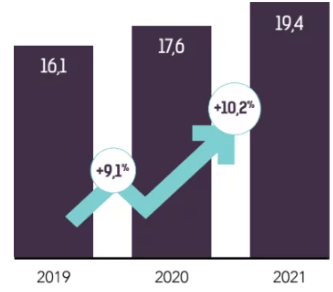 Proportion of R&D staff in relation to the total staff of pure player software editors Sample: 218 companies Source: EY – Numeum
Proportion of revenues dedicated to R&D among pure player software editors Sample: 212 companies Source: EY – Numeum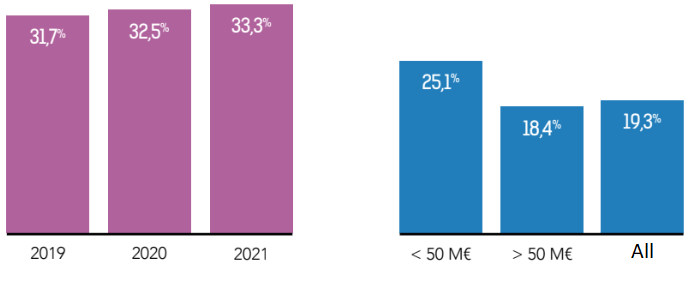 However, this innovation could only succeed with sufficient and qualified resources. That's why recruiting new talent remains one of the top priorities. 88% of French software publishers plan to continue to increase their workforce in 2022, in particular by hiring 67% more developers.
Unfortunately, as in many other sectors, the digital industry is affected by a recruitment crisis. It must therefore reinvent itself by reviewing its salary policy and its CSR positioning as a priority.
Profiles wanted Sample: 233 companies Source: EY – Numeum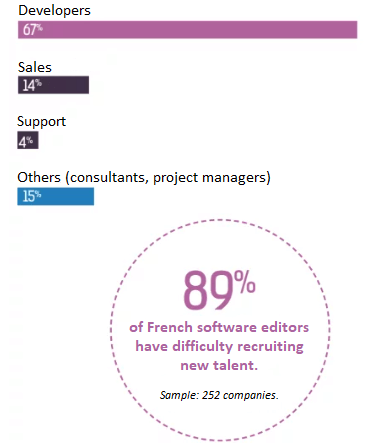 Ranking 2022: a small step for Ernst & Young and a big step for ITD
As it has done every year since 2010, the consulting firm Ernst & Young publishes its Top 250 software companies in France. This barometer analyzes the growth of digital players and their impact on the economic performance of the sector.
For its 12th edition, ITD enters the ranking.
"We are proud to be ranked 116th among industry software vendors and 244th among all markets. This ranking reflects our efforts, both in terms of sales and product innovation. With our ClickOnSite software, we have conquered more than 50% of the French telecom market. Henceforth, this recognition confirms us in the company's future."