POST-COVID-19 CRISIS SURVEY
The following survey gauges ClickOnSite interest during the COVID-19 crisis, and how it is essential for MNO to boost their digitalization.
It was directly conducted by ITD teams from May 25th until May 29th.
The panel comprises ITD clients across the globe.
Did you, or your colleagues, use ClickOnSite during the pandemic?

Adoption is one of our priorities this year. So, we are glad to confirm that users are engaged.
How often did you use it during this period?

Likewise most of them are using ClickOnSite on daily basis.
Do you think your use of ClickOnSite increased during this period?

Two thirds of managers surveyed agree that COVID has boosted their use of ClickOnSite.
In your opinion, what is the main value of ClickOnSite in such circumstances?
Some of the responses…
"Support collaboration work while working from home as it's easily accessible from everywhere"
"For us, it's business as usual"
"Access to data without calling a colleague"
"Faster and more reliable database and collab platform"
"Availability"
"It is a very important tool for monitoring the evolution of projects and processing instances and the progress of deployment"
What did you like most about it?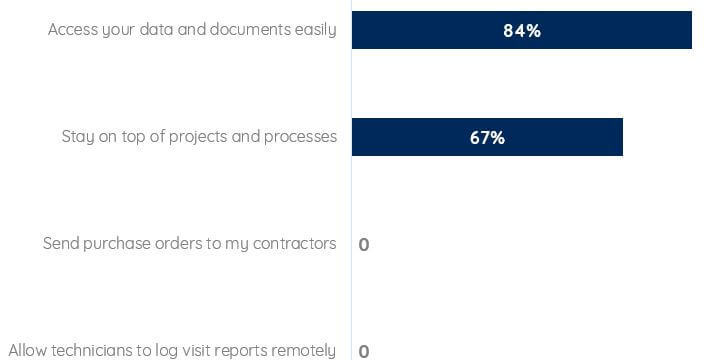 As expected, users fulfilled their primary needs (ie. access data) at the first place. Surprisingly, manager did not notice an increase of use of the mobile application.
ClickOnSite is essential in a time of crisis

Although half of the respondents agree, many others choose to not answer the question.
ClickOnSite makes your home office productive and more comfortable

Numerous managers see ClickOnSite as a facilitator to working from home.
(NB.: 17% non-respondents.)
Where has ClickOnSite helped during COVID-19?
Managers
Steering work in progress
Order services from contractors & validate transactions
Validate collocation requests
Provide executives with reporting as usual
Technicians
Did not change their way of working –
Just their location
They were assigned or could claim tasks like everyday
They could securely access ie. site access information, as-built documentation, lease agreements from home
They could go directly to sites to perform surveys, acceptance, audits, etc. without the need to pass by the office
They captured data on the mobile app and posted their visit reports using a 4G or WiFi connection
Going digital has many advantages – Direct access to your documents is one of them.