Rolling out and managing towers/sites means staff, and/or contractors, working in the field, bringing information back to the main office to be recorded. The ClickOnSite Mobile app bridges the gap between the field and the central office.
ClickOnSite Mobile is made specifically for staff and contractors in the field to capture information (even offline!) and update the central company database in just a few taps and swipes on a smartphone. It is a great example of simplicity and effectiveness as MNOs and Towercos embrace digital transformation in managing their passive tower infrastructure.
Benefits
Speed: data and images updated directly from the field
Time: staff captures + uploads data in one step; no transcribing
Accuracy: since data is updated in one-step, not in two, no errors in transcription
Reduce site visits: combine ClickOnSite's task management with the easy, intuitive mobile app, and what used to take multiple site visits can be done in one
Employee satisfaction: eliminates boring, repetitive work
Use cases 
Site hunting
Civil work acceptance
Radio acceptance
Power acceptance
Asset inventory
Work orders
Failure reports
Fuel logs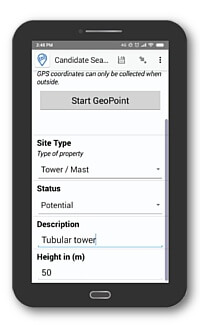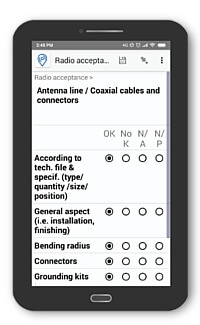 Optimized tasks
Geolocate your technicians
Fill in checklists
Take/upload pictures
Scan bar codes
Product Features
Captures data offline
Uploads directly to ClickOnSite
Fully configurable
Forms customized to your needs (without developer involvement)
App user interface is intuitive, no training required
ClickOnSite Mobile is a game-changer in the industry. We love showing it off. Contact us for a demo!
#MakeTheEverydayBetter