ClickOnSite V2 is on its way !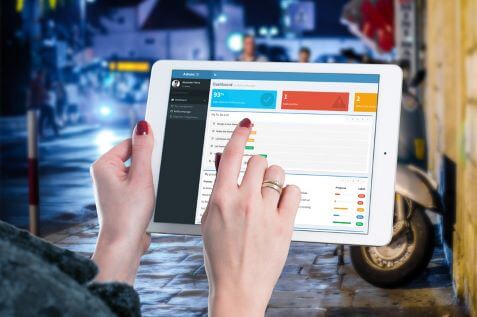 When ClickOnSite was created 10 years ago, our team designed an innovative tool adapted to the work practices and needs of telecommunications operators. Core businesses and techniques are evolving continuously, and we have made constant improvements and adaptations to our software. In the fall of 2014, we decided to completely revamp ClickOnSite with three main objectives: to take advantage of the latest technological innovations, redesign the tool to take into account changes in core businesses and the telecommunications ecosystem, and improve user experience. We plan to launch the new version of ClickOnSite in the 2nd half of 2015. Jérôme Perret, who has taken over management of IT-Development operations, gives us the details.
To design the new version of ClickOnSite, the IT-Development team will use the latest technologies and methods known for being the most efficient. The goal of this project is to improve the client's experience.
 
What has changed from an IT point of view?
Everything! We started with a blank page to take full advantage of the best technologies currently available. For the front end, we have chosen HTML5, Angular-JS, and Bootstrap to benefit from the capacities of modern browsers on PCs, tablets, and mobile phones. For the back-end, Java 8, Spring, PostgreSQL/JSON, or RESTful APIs will provide us with a rich, flexible, and solid technological base, and thus ensure the sustainability and interoperability of our developments. With respect to production, we are on the cutting edge of cloud technologies for the deployment of business applications, for both our own data center and our web space host. Our clients can also opt for our extremely efficient (SLA 100%) and highly secure (ISO 27001, SOC 1, and 2) hosting service with OVH, Europe's foremost web space provider.
Have you also renewed your methods and tools?
Absolutely. We carry out all our developments within a Scrum management framework, with a quarterly internal delivery rhythm. We also favor the use of the "DevOps" method which integrates deployment and operating issues at the start of the project lifecycle. This means, in particular, the use of sophisticated integration and continuous deployment tools.
Will users benefit from these changes?
This is in any case our primary objective. The idea is to place users at the center of the project and provide a tool that meets their needs in a concrete way. We are currently conducting a survey in the field to identify all the issues with which users are confronted on a daily basis to create an adapted tool that they can fully take on board.
What are the main improvements?
We are focusing on efficiency and pertinence to provide greater value to users and their managers. We are simplifying the use of the tool by limiting input operations and keeping only the most useful information. User-friendliness is improved to facilitate access to information. Accessibility to other core business applications is extended and interoperability is facilitated.
Do you think this will also help better satisfy the system administrators?
For the solution's super-users and administrators, the new ClickOnSite is nothing short of a revolution. Of course, our client support team responds quickly and efficiently to their requests, but from now on, they will achieve greater autonomy and have access to numerous configuration possibilities. They can, for example, add an entry field to a form without a purchase order and without waiting. They will be free to add a program, a phase, or a personalized site code as they see fit. They will even be able to connect ClickOnSite to third-party applications without soliciting our teams.
Are any new functions being planned?
One major new feature is the News Feed, which will allow users to discuss a site, an event, or a theme. We are also going to have another look at how our Project Manager operates by integrating all business process management components (Standard BPMN – 2.0).
This will include a process modeling tool, used, via a graphic interface, to model company core business processes, implement support tools (i.e., APIs), and connectors, as well as a process engine, to instantiate processes and store their context and their state. We have performance indicators that we can use to make the right decisions quickly thanks to piloting and reporting tools based on precise and pertinent indicators. Moreover, we are going to improve a number of existing functionalities, notably at the site management and site sharing level.
What does this project mean for the development team?
The team has had to adapt quickly to new technologies and methods, and in this, they were supported by experienced professionals. With a deadline that is approaching very quickly, the team has risen to the challenge enthusiastically and skillfully. We will be joined by extra personnel to help us achieve the ambitious objective that we have set. The first deliveries are looking promising.