After successfully deploying ClickOnSite, our telecom infrastructure management software, at the major telecom players in Europe (Orange Group, TOTEM, Altice, TELE2, etc.) Africa (MTN Group), and South-East Asia (Panasia, IGT, etc.), we are now launching an ambitious strategy in Latin America. A telecom marketplace that will increase at a CAGR of 2.5% between 2021 and 2026 (1).
A strategy of conquest with a 360° action plan
As always, IT-Development is committed to providing a quality and customized service. The ClickOnSite launch on the Latin American market is no exception to these rules. A 360° action plan has been initiated to support this strategic decision and our customers across the Atlantic as closely as possible.
A Spanish version of ClickOnSite
First of all, from a technological point of view, ClickOnSite has been fully redesigned to deliver a Spanish-language version. This was done to facilitate the adoption of the tool by local users.
A qualitative service with native Business Analysts
The relationship between our Business Analysts and our clients is essential to enable the best adoption of ClickOnSite. For this reason, native Latin American Business Analysts have been specially recruited to support the service team and integrators in their daily tasks and projects. Thus, we can ensure a clear and efficient understanding of local issues, all in a perfect native language.
A large-scale marketing campaign
To support this new implantation, IT-Development's marketing teams started to break the news during our Mobile World Congress 2022 exhibition. This first step was the beginning of a large-scale communication campaign launched in mid-March, in collaboration with the Deveo agency, to mobile network operators and towercos in more than forty countries. In addition, a dedicated website and a ClickOnSite brochure were created in the Spanish language.
Latin America: the promising market despite the health crisis
A market weakened by the COVID-19 pandemic but still attractive
While the pandemic has had a significant impact on Latin American nations, regional telecom infrastructure players and MNOs are struggling with the consequences of connectivity, data consumption, and investment limits. Nevertheless, the market did well in 2020 and 2021. The economic impacts are much noticeable on the annual growth of operators from the year 2022. But the GSMA revealed in its last report dedicated to the LATAM market that this decrease is evaluated in the short term (2).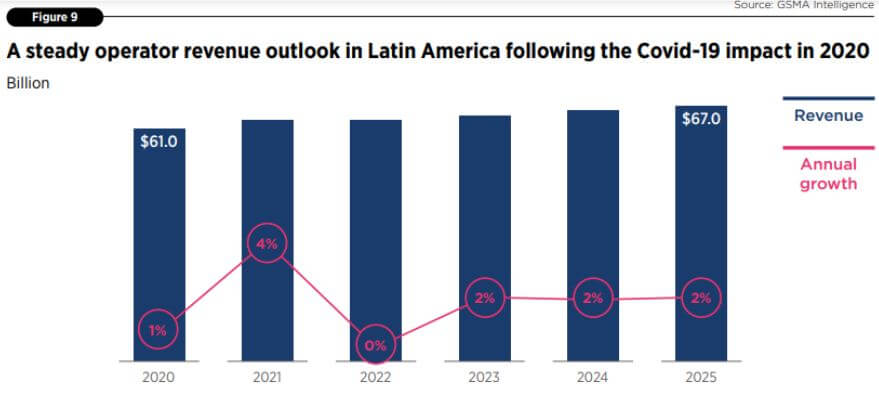 Indeed, investors have shown great interest in LATAM infrastructure companies in recent years. For example, American Tower and SBA, the two largest independent towercos in this area, increased their stock value, respectively +190% and +172%. In the meantime, two significant trends are appearing. First, towercos are still seeking merger possibilities. And, MNOs who are still controlling over half of the market's towers are trying to liquidate their pylons to focus on their primary business (4). Then, more towercos have made the leap and are now providing MNOs beyond structure and land, giving a broader range of solutions to their clients, ranging from power solutions to access control all the way to fiber to the tower (3). This clearly proves that the market is approaching a new stage of development.
5G and digitalization as strategic challenges
In Latin America, 5G is still in its beginnings, the operators are mainly engaged in migrating 2G and 3G consumers to 4G networks. 4G adoption in the region is continually increasing and is not predicted to peak until 2024. That's why the deployment of 5G networks has been postponed for several years. And, GSMA predicted that 5G will account for just 25% of mobile connections by 2026. But, revenue generation, efficiency, and customer experience are driving the network transformation activities of the actors in this zone. To do so, MNOs will invest more than $70 billion in their networks between 2020 and 2025 to boost 5G. This will be a major driver of this spending, responsible for about two-thirds of network CAPEX throughout the period.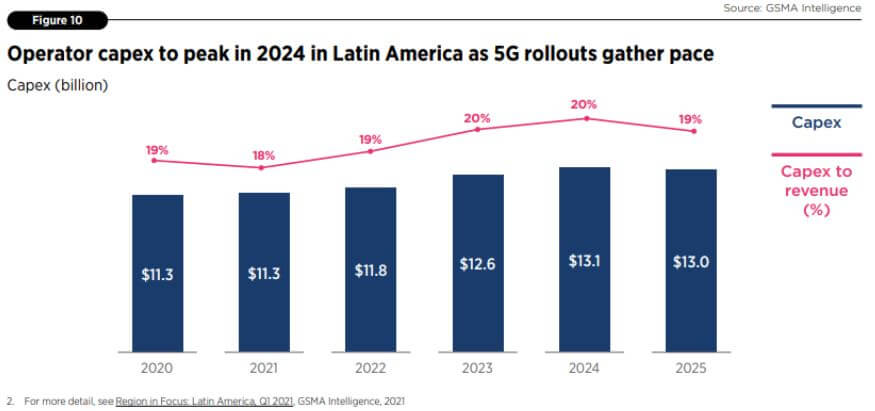 Finally, among the top-ranked priorities for the 5G investment for the LATAM telecom sector: the digitalization of the business. As a result of the global pandemic, operators have been transitioning to the digital transformation of their core operations. This is significant since operators have yet to fully realize the promised benefits of virtualization, such as cost savings and faster service innovation. 5G provides a new chance to accelerate this shift. Simplifying and digitalizing procedures and support operations should be a continuous commitment with the goal of establishing a comprehensive omnichannel customization strategy.
"The launch of ClickOnSite on the LATAM market is a real challenge for us. Outside the Caribbean, the other side of the Atlantic was still an untouched territory for us, but we are convinced that its potential and our proven know-how will be promising. We are already working on several serious leads with key players in the industry."