ClickOnSite is often thought of as a central storage for everyone from the field to the office at MNOs and Towercos to access their infrastructure assets in real time. But ClickOnSite is much more than just a user-friendly database!
Because ITD's leadership got their start in the telecoms industry managing tower rollouts, we know that keeping on top of the processes around rolling out towers, and the whole tower lifecycle, are a very important part of your business.
For that reason, we have built a Project Management Office (PMO) module into ClickOnSite to give you a 360-degree view on your projects & processes. This module makes visible:
Work In Progress: current processes and the status + details of their milestones
Forecasts: upcoming milestones and those achieved versus initial forecasts
Service Level Agreements (SLAs) (coming soon): track whether work is being completed within SLAs
Process Mining (coming soon): identify and correct inefficiencies
ClickOnSite PMO is driven by a combination of BPMN, which is integrated into ClickOnSite [see blog post ClickOnSite BPMN: a tool for efficient management of telecommunications projects], and which automatically assigns tasks and keeping work moving forward, + the project entities in ClickOnSite.
BPM's automated distribution of tasks is a major efficiency enhancement, eliminating extra steps by staff, shortening response times and assuring accuracy, which all add up to lowering costs for our customers in their daily work. (If your current program management tool doesn't use BPM, you are probably missing out on significant efficiency gains!)
However, managers and projects managers need to quickly and clearly see the status of programs, and of projects individually, in real time. We make this clear through the PMO module.
The main ClickOnSite dashboard has an easy-to-read PMO overview (see screen-grab at the top of this article) which shows the currently running process instances and their milestones and color-coded status.
From the overview you can drill down into details. For example, quickly know:
How many projects are in progress?
What is the status of each project?
Which + how many milestones have been completed; how many to go?
Is the project on-time/late?
What are the next milestones and tasks on each project(s)?
Here's how the PMO main page looks (we won't fill this blog post with further screen-grabs, but we are happy to show you all the functionality in a demo!):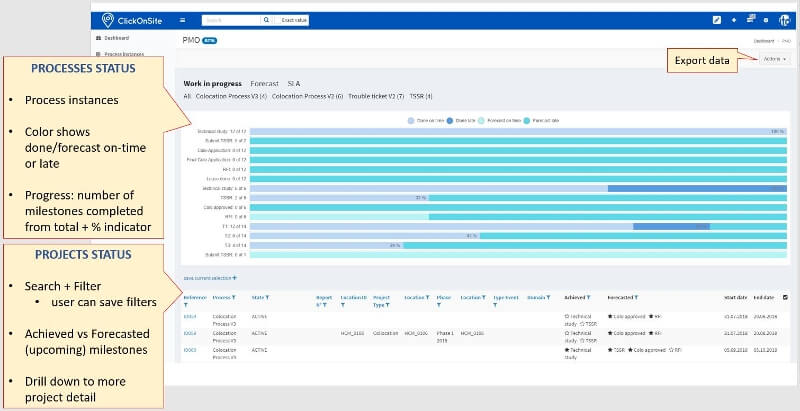 Additionally, through the reports you can drill down to granular information, such as:
Which person does which tasks next on a project?

What did my staff (or contractor) do last week?
This blog post only scratches the surface of what the ClickOnSite PMO module does. In short, with BPMN 2.0 managing processes in the background plus the PMO module visible in the foreground you have a 360-degree view of all your tasks and projects. Ask us for a demo, we'd love to show you how it works! Also look for a video explanation soon.
#MakeTheEverydayBetter