Previously presented as simple third-party service providers, telecoms are now seen as the foundation for almost all elements of society. By maintaining their quality of service throughout the COVID-19 crisis, they demonstrated their commitment and many were surprised by their reliability. Working behind the scenes, they supported the emergency services, they have enabled many businesses to operate remotely and helped millions of people to maintain social connections and entertainment. But, faced with the scale of the task and the multiple health restrictions, a new organization was imposed on them. A new mode of operation has pointed out the strengths and weaknesses of these high-tech giants facing a growing need for digital transformation.
As a telecom software publisher, we have worked beside them, in the heart of the ecosystem. Therefore, it was natural that once the containment measures were reduced, we wanted to gather the feelings of our post-COVID-19 customers. The idea? Audit the degree to which the digital transformation, conveyed by our solution, has worked in times of crisis and what its possible benefits have been.
A bad thing to create a better one: the pandemic pushes us out of our comfort area
Although digitalization seems to be an increasing part of our daily lives, many inequalities persist, and even deepen, around the world. On the one hand, geographical areas are already advanced and very ambitious (as we mentioned in our article dedicated to the MENA market). On the other hand, territories have to jump on a moving train, health crisis, or not.
From this point of view, COVID-19 has become a real-life exercise and, for many professionals, this crisis will allow them to reevaluate their data management progress.
Last April, during the Towerco Resilience and Response to Covid-19: Keeping the Networks Running conference, Kurt Bagwell, CEO of SBA Communications, said:
"From a customer deployment perspective, having good data on your sites and real-time data… this crisis really shines a light on that. We think we have pretty good data, and we do, but there is always room for improvement and I think this is going to force us to really take that up a notch in the future."
Such feedback is accumulating on the internet and highlights the need to accelerate the digital transformation of telecommunications. But how can this be done?
Digitalization must be integrated into the overall operator strategy
To understand better the different impacts of digitalization on telecom professionals, we chose to interview the Euromena Consulting teams.
The experts of the consulting firm recommend building a clear vision of the implications of digital transformation and strategy. How can we do this? By drawing up an execution roadmap across the whole company addressing both customers and operations. In addition, they strongly recommend mapping improvements related to digital transformation across all systems, platforms, and its uses. This will make it easier to prioritize the execution of tasks based on key areas of focus, impact, and complexity of implementation.
Finally, beyond the pure perspective of systems, the specialists remind that the definition of a global approach is essential. This must encompass not only the tools and systems but also all the key elements that will make digitization a success.
Only then will the telecom players be able to take full advantage of their transformation.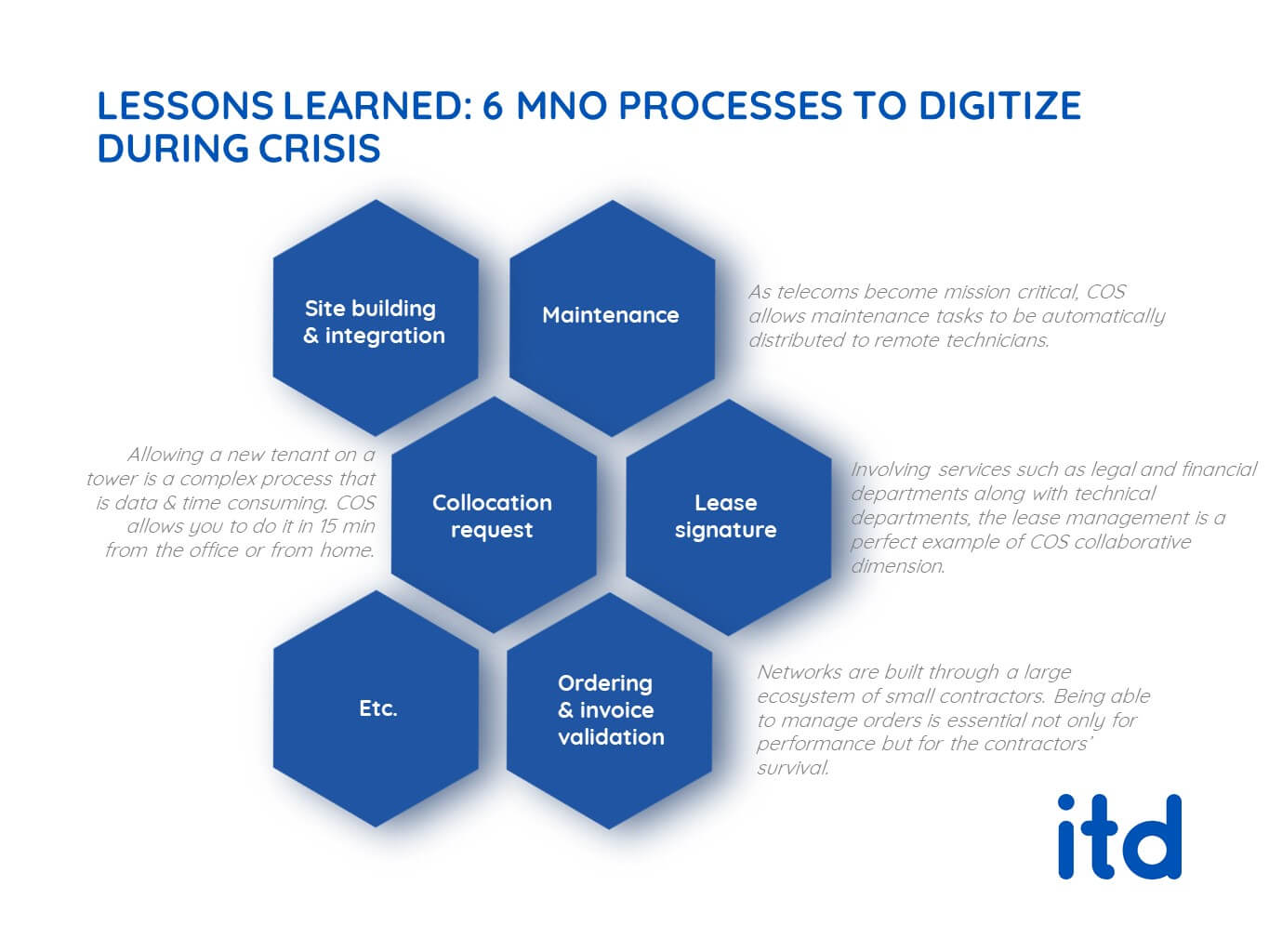 Digitalization and innovation: keys to the future
In parallel, we surveyed many experienced professionals, who are users of ClickOnSite, to determine the rate of use of our solution in times of crisis.
Our study, conducted in May, revealed that 67% of the respondents used our software several times a day (and 100% several times during containment).
Concretely, we found this health crisis has forced telcos to adapt, and ClickOnSite has been able to respond to the needs triggered by the containment restrictions. The most cited advantages of ClickOnSite were: facility of access to data and documents (84%), ability to control projects and processes (67%), reliability, rapidity, availability, and sharing data remotely.
According to half of our respondents, the implementation and adoption of an innovative management tool, like our solution, can be essential in times of crisis.
Therefore, more than 80% of them agree that ClickOnSite has boosted their productivity and competitiveness.