18 months of research and development have enabled ITD to create its brand new software ClickOnSite. New design, new ergonomics, new features…
Everything has been redesigned and rethought for the comfort of the user. More intuitive, it is now very simple to use and configurable to everyone's needs. To go with the launch of this new product on to the market, ITD has decided to align its brand image with its product.
A brand new, more modern, more dynamic logo and a completely re-engineered charter both highlight ITD's ambition of conquering the telecoms market.
Words such as – simplicity, innovation and flexibility – are at the heart of ITD's strategy in the forthcoming years "The completion of a customer survey conducted on a large panel of ClickOnSite V1 users allowed us to test our selves on key points, but also to reinforce our services and our efforts on aspects developed by ITD and that are appreciated by our clients", explains Jérôme Perret, founder and managing director of ITD. "ITD was previously a company of engineers, that mainly focused itself on the technical aspects rather than the comfort of the user. With our new ClickOnSite, we concentrate ourselves above all on the real problems of our clients and provide them with the appropriate solutions. The objective of putting this new charter in place is to get the message across that we have heard and understood the needs of our clients. From here onwards, it represents our values, and our flagship product ClickOnSite"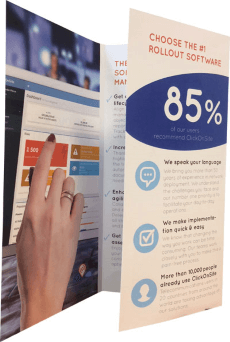 ClickOnSite will be presented to the general public for the first time at the Mobile World Congress in Barcelona.
Boasting state-of-the-art technology, it allows mobile operators to manage the the deployment and management of their telecom networks. There are multiple benefits : an immense increase in productivity, a better visibility, an enhanced control and a drop in operational costs. But above all, it simplifies the everyday lives of the operational staff and the managers, by automating the tasks that were previously time consuming and with little added value, a better communication within teams committed to the project, and an overview of projects' performance.