The decision whether to build your own IT/enterprise software solution vs buy commercial software (ex. ClickOnSite) is a classic dilemma every technology company faces. There is no single answer that works for every situation and there are many opinions on the subject published on the internet.
In my 25 years of working for technology companies, I have been on both sides of this equation: inside companies that developed their own solutions rather than bought marketplace solutions, and working at companies that have technical solutions for sale.
As we talk to MNO and Towerco prospects, we sometimes hear that they are comparing commercial software versus potentially building their own solution in-house. This blog post will outline why we believe that unless you are selling the software you build, it is almost always better to buy market-driven software.
Indeed, at Mobile World Congress 2019 *three* companies who had previously evaluated ClickOnSite, but had decided to go with an in-house built solution, came to us saying they realize building an enterprise-quality site asset management system was a dead-end for their organization and they want to go with ClickOnSite after all. So build vs buy?
Comparing apples & oranges
What most companies *don't* do in addressing the buy versus build question is compare apples to apples: they compare their intuitive sense about in-house possibilities (apples) without truly costing the whole (product) development life cycle out, versus the published cost of a market software, which has all the Cost Of Goods Sold (COGS) factored in (therefore oranges).
Nonetheless, the decision is not simply cost. Other significant considerations:
Speed to implementation
Scalability
Focus (priorities)
Support
Ongoing development (updates)
Core-competencies & service
Consider the advantages of a company with many customers in the market, whose livelihood depends on making the best product for that function in the market: 
Company (ITD) listens to the needs of our clients and delivers on them
New market-driven functionalities are delivered
The software is continuously optimized
A market-solution has inputs from many people (a community)
Visual comparison of the pros & cons of in-house versus market built software (ex. ClickOnSite)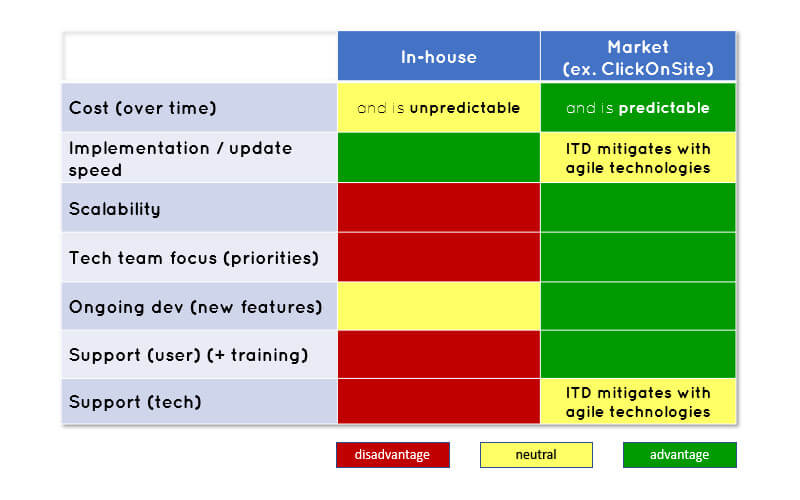 How software features are evaluated and driven/prioritized

The two most common arguments against buying are:
Important features for your organization are not included

a company like ITD that must make its customers satisfied listens to your input and prioritizes the features you need. We always consider adding features needed in the market directly to ClickOnSite, but if it is a function outside our core competence, we make it easy to integrate with your other enterprise software.

Cost; a software licence may look high

in fact, in-house development is typically more expensive, it's just that its costs are hidden/not-visible.
Our view is that unless you can monetize the software you are making + maintaining, building your own solution is almost never the cheapest or most effective way to go, when you calculate all the costs, including operational inefficiencies by staff. Custom-built software's only advantage is (sometimes) a quick start. It is better to use the expertise of a company doing this work/service for a living than to rely on an internal team working outside a company's core competency.
All things considered, if there is a commercial tool that fulfills your needs, buy it. So, build vs buy?
Imagine how much time and money those three companies that came back to us at Mobile World Congress would have saved — don't forget how much more revenue they could have *made* — if they hadn't gone on a two-year detour that ended up with us as the best solution anyway! Well, we're happy to bring them the benefits of ClickOnSite in the end! 🙂
#MakeTheEverydayBetter